Talking to young people about gambling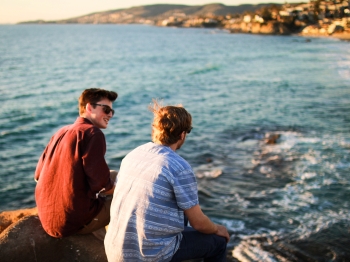 Having a conversation with a child or teenager about gambling may seem difficult, but it's an important discussion for you to have with each other.
And it may not be as hard as you think. You have a lot of influence, and you're in the best place to encourage a young person in your care to think critically about gambling and to make informed decisions.
Ask them what they think
You might be surprised that your child has already formed attitudes to gambling through exposure to gambling ads, sports promotion, and even card games played among friends. If they're in their teens, they're likely to have had more access through digital devices, social media and interaction with their mates.
Grab opportunities as they come up
It doesn't have to be a lecture. Just show your child you're open, and they can talk to you about gambling at any time. Maybe chat in the car on the way to school or sport practice, or when a gambling ad pops up on TV, or if you notice there are loot boxes in a video game they're playing.
Cover the important topics
Make sure your child knows there's a lot to love about competitive sport, and you don't need to have a bet, or know the odds, to make it fun and exciting.
Help your child understand the odds are always in the favour of gambling providers – some more than others. They're in business to make money, and chances of winning are limited. Questions like "Do you know the odds of winning on the pokies?" or "Do you know how much money is spent on sports betting advertising?" can be great conversation starters.
Have a conversation about what influences attitudes to gambling. Say, the fine line between gaming and gambling. How does gambling show up in the video games your child plays, and how has technology made it easier to gamble?
Find ways to demonstrate how gambling is risky and can cause harm. Start with the immediate consequences. Your child may relate to suddenly not having spending money to buy the things they want or do things with their friends. Or they might know friends that got carried away with loot boxes and lost their own or someone else's money.