What else your organisation can do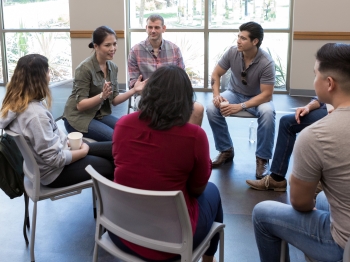 You can play a key role in raising awareness about gambling harm through education, community events and coordinating community responses.
We have lots of ideas to help your organisation spread the word about the impact of gambling harm among your clients and their families, and throughout the community.
Raise awareness through education
Invite local GambleAware providers to present to your school, community group or neighbourhood centre. They can discuss gambling harm or other topics related to gambling that would interest your community.
Use our resources as part of your community education. Animations and lived experience videos will add weight to your presentation.
Include some gambling content in your newsletters and updates. Take articles from GambleAware's monthly eNews or write your own.
Talking with Teens About Gambling
We talked with young people about how they feel about gambling and the inundation of gambling advertising in the media. Narara Valley High School students talk gambling: underage gambling, the way gambling ads work, what they find appealing about gambling and what they find appalling.
See link here: https://www.youtube.com/playlist?list=PLlxOaF8FyB0qsZ6DB2k6KWIt4CV-dtXgF
Lived experience videos
These videos help people know they're not alone. The stories are from real people whose lives have been affected by gambling, and reflect the real emotions and challenges they faced on their journey to regain control.
See link here: https://www.youtube.com/playlist?app=desktop&list=PLlxOaF8FyB0oTVDioEog1BJ5G7bb783CJ
Raise awareness through resources and events
Promote cross-sector collaboration with GambleAware services
Make sure everyone in your organisation knows your GambleAware Community Engagement Coordinator.
Make a point of discussing gambling-related issues at your network meetings.
Understand the full implications of co-occurring conditions and the need for coordinated screening and services.
Raise awareness through community activities
Invite GambleAware providers to present or host stalls at health, mental health and community festivals.
Hold forums or seminars especially for culturally and linguistically diverse (CALD) communities in your local area in the community's language.
Hold an event during GambleAware Week
Your health or community organisation can be part of something bigger. Every year GambleAware Week raises awareness of gambling and gambling harm in communities right around NSW. It's great PR, and you can be a part of it. Contact us to find out more about how to get involved.