Signs gambling may be a problem in the workplace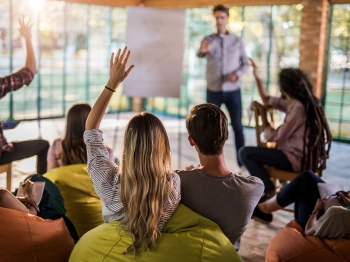 If an employee or workmate is showing any of these warning signs, they might have a problem with gambling. It's time for a conversation with them.
Changes in how someone manages their time, their productivity and mood, and their financial wellbeing can all be clues.
Warning signs to watch out for
Any of the indicators below taken on their own don't necessarily mean a colleague has a gambling-related issue – there may be other things going on in their life. But if there's a pattern, it's worth having a conversation, whether as an employer or as a mate.
They arrive at work late or leave early, or take long lunch hours.
They disappear without explaining, or they're absent more frequently.
There's a predictable pattern to their sick leave.
They gamble on company time (online, mobile, landline).
They're irritable, moody or can't concentrate.
Their mind is on other things.
They're not as productive, or they don't complete projects.
They're overusing the work phone or internet.
They're borrowing money from workmates.
They often ask for salary advances.
They get calls at work by companies chasing payment.
They frequently volunteer for overtime or additional shifts to cover debts.
We sincerely hope it doesn't come to this:
They steal money or goods from work colleagues (even with the intention of paying it back).
They make fraudulent expense claims.
They start embezzling.
They may avoid taking holidays, so backfill to cover their job isn't required.
Form guides or sporting newspapers are on their desk, or they're often on betting websites.
Support for employees
Let your employee or colleague know about GambleAware. Give them the GambleAware number on 1800 858 858 and encourage them to call 24/7, and let them know about the GambleAware website. Reassure them.
Support for employers and workmates
Remember – GambleAware is here to support anyone impacted by gambling, and that includes you. Contact us if you need more support or advice on how to approach the issue of gambling in your workplace.