Talking to young people about gambling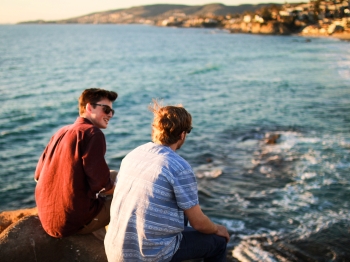 Having a conversation with a child or teenager about gambling may seem difficult, but it's an important discussion for you to have with each other.
And it may not be as hard as you think. You have a lot of influence, and you're in the best place to encourage a young person in your care to think critically about gambling and to make informed decisions.
Understand how gambling can affect young people
Gambling can affect young people in different ways to adults. The way they gamble, and the risks and impacts of gambling are different to the experiences of older generations.
Gaming and gambling convergence
Young people are exposed to gambling through gaming. Many video and online games include gambling-like features or have gambling themes, such as loot boxes and social casino games. Often, these games target young people.
Evidence shows that there can be a progression from video games to online gaming and to gambling.
Young people today are growing up surrounded by gambling advertising. They see gambling ads at least once a week, especially on TV during sports and racing, or through online or social media.
This advertising works. Our research shows that it makes young people think more positively about gambling and increases the likelihood they will gamble in future and face issues related to gambling.
Sports betting is one of the riskiest forms of gambling. With gambling now accessible 24/7 through smartphones and gambling apps, sports betting is at everyone's fingertips.
Constant sports betting advertising makes young people think that gambling is a normal part of watching sport. They may assume that everyone's doing it. Like underage drinking and smoking, they may feel enormous pressure to bet on sports to fit in.
Reflect on your own attitude
A parent's attitude towards gambling can be a strong influence. Many parents believe that gambling is harmless fun and don't set any rules around gambling. This normalises the behaviour and may lead to more gambling in adulthood.
Tips on how to have the conversation
Rule of thumb – focus educating on risks and consequences
Educating about risks and consequences is better than a 'don't do it' approach.
Grab opportunities as they come up
It doesn't have to be a lecture. Just show your child you're open, and they can talk to you about gambling at any time. Maybe chat in the car on the way to school or sports practice, or when a gambling ad pops up on TV, or if you notice there are loot boxes in a video game they're playing.
Start by asking them what they think
You might be surprised that your child has already formed attitudes to gambling through exposure to gambling ads, sports promotion, and even card games played among friends.
If they're in their teens, they're likely to have had more access through digital devices, social media and interaction with their mates.
Help your child understand the odds of winning in gambling are extremely low. They are always in the favour of gambling providers – some more than others. Questions like "Do you know the odds of winning on the pokies?" or "Do you know how much money is spent on sports betting advertising?" can be great conversation starters.
Talk about the sports betting advertising they have seen, for example, the different advertising techniques or celebrities they have noticed in the ads.
Ask them what kind of conversations they have with their friends about sports betting. Do they discuss the odds of one team beating another? Do they bet amongst themselves?
Make sure your child knows there's a lot to love about sport, and you don't need to have a bet, or know the odds, to make it exciting.
Have a conversation about what influences attitudes to gambling. Say, the fine line between gaming and gambling. How does gambling show up in the video games your child plays, and how has technology made it easier to gamble?
Find ways to demonstrate how gambling is risky and can cause harm. Start with the immediate consequences. Your child may relate to suddenly not having spending money to buy the things they want or do things with their friends. Or they might know friends that got carried away with loot boxes and lost their own or someone else's money.
Gambling can get out of hand. Your child may have already learnt about drugs and alcohol at school. You can explain that like drugs and alcohol, gambling can be addictive.
You may also want to discuss some early signs of a child or a young person has an issue with gambling.