Take a break and ban yourself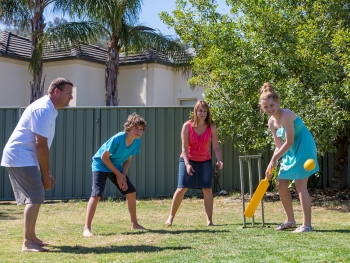 A good way to take control is deciding to block, ban or bar yourself (also called self-exclusion) from places you know gambling is an issue for you.
Self-exclusion can help if you want to cut down, have a break or quit for good. You choose where you don't want to be. Anyone can do it, and it's free.
How does it work?
You choose the locations and websites that you know present risks for you – a venue, the section of a venue where there's gambling (say, the gaming room), or an online betting service – and you say how long you want to opt out. It might be temporary or permanent. It's your call.
For casinos, clubs, pubs and the TAB
You sign an agreement that sets out your obligations, including that you won't be allowed to go into places you've specified. If you do go in, staff have permission to remove you.
In NSW, the minimum time you can self-exclude from casinos, clubs and pubs is 6 months. The minimum time you can self-exclude from TAB Agencies and their participating licensed venues is 12 months.
When you fill out the self-exclusion agreement you'll need to provide:
copy of photo ID (driver licence or passport)
passport-size photo
list of the venues, parts of venues and TAB Agencies you want to be barred from.
This information is confidential. Your name and photo will be added to the venue's register, but only the staff who need to identify you will have access.
Casinos, clubs and pubs: how to ban yourself
In person
Contact the venue directly and let them know you want to self-exclude. They'll explain what you have to do, and you'll sign an agreement identifying the venue, or the part of the venue, you want to be blocked from.
Through a gambling counsellor
A GambleAware counsellor can help you self-exclude from any pub, club, TAB Agency or casino in NSW, so you don't have to go to the venue at all. You can ban yourself from up to 35 venues in one go. Get in touch with a gambling counsellor or call GambleAware on 1800 858 858 24/7.
TAB's BetCare Program lets you fill out a form to nominate up to 15 TAB Agencies and participating hotels and clubs in NSW – plus your online account. To find out more, call 1800 882 876 or check out the BetCare brochure.
For online betting services
When you ban yourself from an online betting service, including TAB, your account will be deactivated. You won't be able to use it for betting.
The ban can be permanent, or you can take a break for days, weeks or months.
While you're blocked you can withdraw any remaining balance, but you can't reopen the account.
Online betting services: how to set limits or block yourself
Every legal online betting service has tools to help you keep your spending in check. You can set deposit and transaction limits with them, and even put a self-exclusion in place.
Here are some links to help you check out your betting service's commitment to you:
You can also use blocking software
Specialist blocking software can prevent access to all online gambling sites, servers and apps in one go. It's a great way to help stop kids and young people experimenting with gambling online.
There are 2 types of blocking software. Take a look at user reviews and ratings to decide what's right for you.
General blocking software
Lets you set authorisations or parental controls to prevent or monitor access to a range of websites or apps.
For example, Net Nanny filters different categories of online content in addition to gambling. It can track searches, enforce safe search, and set alerts for flagged words like "poker" or "casino". It can also place daily time limits on device use.
Gambling-specific blocking software
Lets you block gambling advertising and access to gambling websites: