Betiquette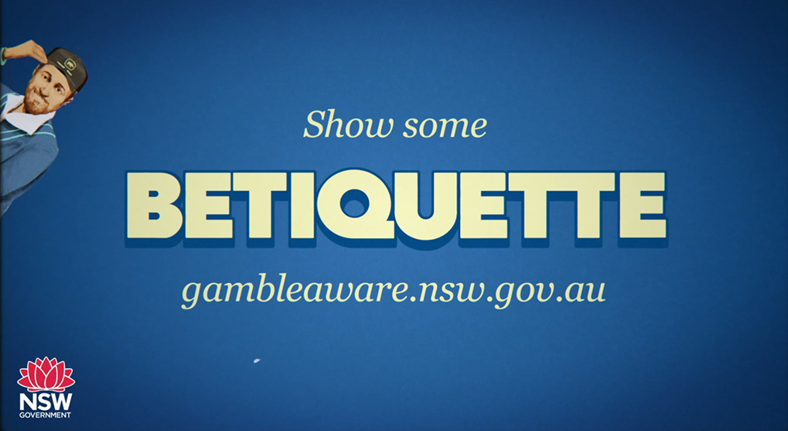 Sports betting can lead to risky gambling behaviour. Maybe we just need to use a bit of old fashion etiquette when betting.
Campaign overview
Betiquette was designed to address the normalisation of sports betting and the risk of males sports bettors experiencing harm.
Sports betting has become normalised in sport. Gambling advertising is increasingly pervasive in sports coverage and sponsorship, and targets sports fans through direct digital marketing and messaging.
Initially launched in 2017, Betiquette is a highly targeted advertising campaign to counter the constant advertising by wagering operators.
Key message
We wanted to empower young men to remain in control when betting on sports by showing some "betiquette" – a mix of good old-fashioned etiquette and responsible betting.
Campaign description
Our strategy responded to the impact of impulse in driving poor decision-making when young men bet on sports with online wagering operators. It's an innovative campaign that uses relatable scenarios to demonstrate the risks of betting and how to make safer decisions and avoid gambling harm.
The creative strategy acknowledges the importance of speaking to the target audience in 'their own language' (as wagering operators do). It contrasts the virtual nature of online betting with an old-world feel reflecting a time when men had a strong sense of etiquette in all aspects of life.
The video ads serve as an interruptor, delivered primarily during sporting events where risky betting behaviours are most likely to increase.
The effectiveness of the campaign is regularly evaluated by external agencies. Results from the most recent evaluation show that for young, male sports bettors exposed to the campaign:
93% thought it was easy to understand
92% found the ads to be believable, and
80% learnt something new from the ads.
More importantly, 83% of the audience took positive action in regard to their gambling and 86% stated they would take positive action in the future.

The website for the campaign offers tips on how to gamble responsibly, including setting a cash limit, knowing your bet and reading the terms and conditions. Users can also get support through the website and read statistics related to betting.