Reclaim the Game – Cricket
The Sydney Sixers and Sydney Thunder men's and women's teams, the NSW Blues and NSW Breakers are committed to helping their fans Reclaim the Game.
The partnership means NSW Big Bash matches are free of sports betting sponsorship and advertising, allowing a more family friendly experience for fans to ensure they don't miss any of those exciting cricket moments. This move has been welcomed by cricket fans:
83% of Sixers fans and 84% of Thunder fans believe there is too much gambling advertising.
85% of Sixers fans and 86% of Thunder fans believe children and young people are exposed to too much gambling advertising.
Cricket NSW CEO Lee Germon said the partnership provides an opportunity for both organisations to deliver on their commitments to preventing and reducing gambling harm.
"Through this partnership, we hope to make a positive contribution to changing the community's attitudes towards sport and sports betting," Mr Germon said.
"We recognise the impact that constant sports betting advertising can have on young people and their families – particularly young men.
"The idea that kids are led to believe gambling is a normal part of sport is a real concern, so this is a step in the right direction that we're proud to be taking."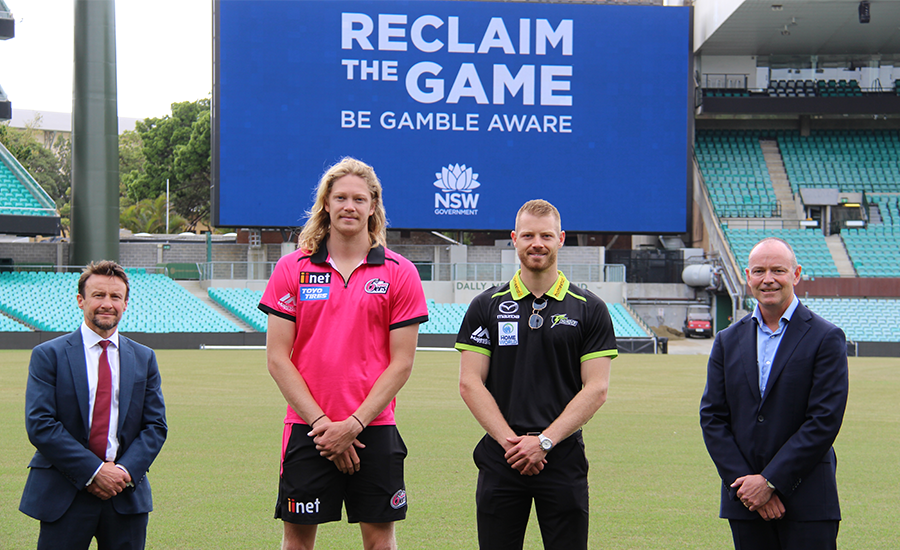 Photo from the partnership launch in October 2020. Left to right: John Dalzell, Chair Responsible Gambling Trust; Mickey Edwards, Sydney Sixers; Nathan McAndrew, Sydney Thunder; Lee Germon, CEO Cricket NSW.