I'm facing criminal charges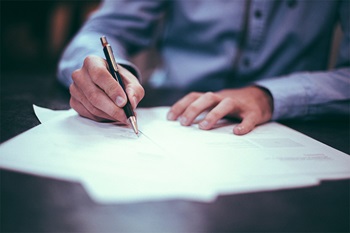 If you have been charged with a gambling related criminal offence such as theft, fraud or even domestic violence, you should strongly consider finding a lawyer to help you. Speaking to a GambleAware counsellor may also help you reduce or stop your gambling.
This section will help you understand what to do in the event of various criminal offences, and directs you to resources which can help.
What does it mean to be faced with criminal charges?
Sometimes individuals who are experiencing serious gambling harm may find themselves facing criminal charges due to their circumstances.
If you are facing criminal charges, the police will first need to investigate the allegations of the crime. To assist the investigation, it's likely they would want to interview you to discuss the matter.
Prior to participating in a police interview, you should speak to a lawyer about your legal rights.
Do I have to go to court?
If the police charge you with a crime, you may be required to attend court to plead your case. If you haven't already spoken to a lawyer, you should do so before the first court date.
I've been charged with a financial crime
Courts take financial crimes very seriously, particularly fraud. Financial crimes can sometimes result in prison sentences, so it is important to seek legal assistance immediately.
An issue with gambling is not a mitigating factor, but it can help the court understand why the crime was committed. The court will look favourably upon a person who takes action to address their issues with gambling, like gambling counselling and self-exclusion from gambling venues.
The police have made a provisional Apprehended Domestic Violence Order against me
Apprehended Domestic Violence Orders (ADVO) are court orders that aim to protect people from others who may be violent toward them or may cause someone to fear for their safety.
An ADVO works by listing things that the defendant must not do. Examples include not assaulting, no threatening, no harassing or intimidating the protected person. These are called 'conditions' of the ADVO. Some conditions may prohibit the defendant from returning home or going to certain places.
If you have been involved in a domestic violence incident, the police may make an 'provisional ADVO order' (a temporary order) ADVO against you until the court deals with your case.
When the matter goes to court, the magistrate can make an interim ADVO which continues until final orders are made.
If you choose to plead guilty or if the court finds you guilty, the magistrate may make a 'final order' for an ADVO against you. The Court can also make any other orders it thinks are necessary for the safety and protection of the protected person. It is your obligation to abide all the conditions in both interim and final orders.
What should I do if I've been charged with a domestic violence offence?
Domestic violence offences are very serious and rulings are not treated lightly. When you attend your court hearing, you will be asked if you are pleading guilty or not guilty.
Prior to making this decision, you should get legal advice. If you are unable to get legal advice prior to your court hearing, you can ask the court to adjourn your case, so you have the opportunity to obtain legal advice. Depending on the outcome of the case, an Apprehended Domestic Violence Order (ADVO) may be issued by the court and you could be convicted of the crime of assault.
I breached a casino exclusion order
If you misbehave at the casino or enter the casino when you are self-excluded (banned), you may receive a casino exclusion order. Further breaching of this casino exclusion order is breaking the law and it means you will have to go to court.
The maximum penalty for breaching a casino exclusion order is a fine of $5,500 and/or imprisonment for 12 months.
We recommend you speak to a lawyer before going to court. They will be able to advise whether or not you should enter a guilty plea and can help you to prepare your evidence.
Think about whether you might benefit from gambling counselling. If you are found guilty, the court may postpone its decision about what penalty to impose for up to 12 months to enable you to undergo gambling counselling. This could result in a reduced penalty.